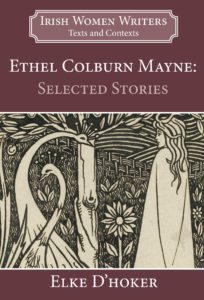 This new book contains a selection of the short stories of the Irish writer, Ethel Colburn Mayne, who published her first stories in The Yellow Book but later also contributed to modernist magazines and was routinely compared to Katherine Mansfield. Her work has been wrongly sidelined and really deserves to be more widely read. Copies can be ordered here.
Ethel Colburn Mayne (1865-1941) is a now largely forgotten Anglo-Irish writer who was born and raised in Ireland, but settled in London to pursue a literary career in 1905. She became a respected literary figure there, publishing novels, short stories, biographies and translations. It is for her short stories that she received the greatest acclaim, often being compared to Henry James and Katherine Mansfield.
Mayne published six collections of stories between 1898 and 1925. This book offers a selection of the best stories from these collections, with a particular focus on stories that have an Irish setting and/or Irish characters. The stories printed in this volume are preceded by an introduction that gives an overview of Mayne's life and career and places her work, and her short fiction in particular, within the literary context of the time. Mayne's first story came out in The Yellow Book under the pen-name of Frances E. Huntly in 1895. She then published novels: Jessie Vandeleur (1902), The Fourth Ship (1908), Gold Lace: A Study of Girlhood (1913), One of Our Grandmothers (1916), and her collections of stories, including Things That No One Tells (1910).
Mayne's work is out of print and has been for a long time. She has received some attention recently as a contributor and sub-editor of The Yellow Book and her early work has been classed alongside that of other (Irish) New Woman writers. Yet, the rest of her work is interesting and significant as well: her short fiction bridges the gap between fin-de-siècle symbolism and the modernist short story, while her novels and some or her short stories give an invaluable perspective on the constrained lives of the daughters of the Anglo-Irish gentry in the late nineteenth century.
Her work certainly deserves to be better known, much like that of contemporaries like Norah Hoult (who knew her), George Egerton, Katharine Tynan or L.T. Meade who have also received renewed attention in recent years. A bibliography is also provided.